Project Description
Prometheus proudly provides the most advanced technologies to prevent wildfires from happening and mitigate the environmental impact. Our software platform combines the following amazing products of our great partners and the solutions are above any competition:
ADVANCED WILDFIRE PREVENTION FORECAST
We partnered with the world's best and managed to have available the most advanced wildfire prevention forecast. 
We can provide premium and detailed wildfire prevention forecasts from anywhere to everywhere in the world.
Prometheus Advanced Wildfire Prevention Forecast (AWP) developed by our great partners at Quiron Digital, prevents fires before the first sign of smoke and has access to a dynamic fire prediction platform to monitor risks on a daily basis! Identify specific locations that may have a fire occurrence up to 10 days in advance for on-site preventive actions, with a georeferenced indication of critical points and high-resolution images.
We use High-resolution satellite imagery, AI, deep learning, and advanced GIS applications to create the provided prevention forecast.
The top program specifications are a 10-day accurate prevention forecast in 10m spatial resolution and the precise GPS coordinates of the threat.
PROMETHEUS ADVANCED WILDFIRE PREVENTION FORECAST developed  by
Get in touch or ask for a quote to learn about our affordable pricing and our supreme service.
2. DRYAD NETWORK ULTRA EARLY FIRE DETECTION system.
Our great partner Dryad's sensors Silvanet solution has a new approach and is complementary to satellites & AI smoke camera solutions. Silvanet is focused on ultra-early detection of wildfires. The target is to detect wildfires during the smoldering phase before there is an open flame. Using Silvanet's ultra-sensitive gas sensors, we detect changes in the gas composition of the air and by applying AI/ML, reliably detect a wildfire when it is still in its infancy. Our aim is to detect fires within the first 30 minutes of ignition. This gives firefighters a game-changing advantage as they can arrive at the scene when the fire is still relatively small and can be extinguished with simple measures (fire truck or airplane/drone).
HOW IT WORKS:
Dryad's inexpensive, solar-powered gas sensors are placed directly in the forest (at a distance of approximately 100m (328) ft from each other) for high-risk areas or larger distances (e.g. approx 500m /1,650 ft) for low-risk areas. terrestrial IOT wireless mesh network, which operates on solar power and is independent from the grid or even mobile network access. Our distributed architecture enables large-scale deployment of sensors in remote areas of the forest and in locations without existing mobile network coverage. At the same time, the Silvanet infrastructure is standards-based and can be used with many sensor applications from 3rd parties (based on the LoRa wireless network standard).
DRYAD'S SILVANET SYSTEM created by our partners
3. AI SMOKE PLUMES CAMERA AND FIRE DETECTORS
Our Smoke detectors are sophisticated devices intended for early fire detection and immediate notification of users. Our early forest fire detection system uses artificial intelligence (AI) and sensitive optical sensors to provide improved fire and smoke detection accuracy with the capability to precisely pinpoint the fire location up to 10 miles from your building.
The main purpose of the Prometheus Early Detection System (PED) is to detect fires before they become too large to be effectively controlled.
The Prometheus wildfire early detection system (PED) monitors the surrounding area 24/7. When it detects smoke or flames, it automatically sends an alert with the exact location of the fire to the users of the web or mobile app. The fire is detected within 10 minutes on average, increasing the probability of extinguishing it before it can get out of control.
The ADVANCED AI SMOKE PLUMES CAM AND DETECTORS created by our partners
4. PROMETHEUS FIRE DETECTOR DRONE SYSTEM 
The Prometheus Fire Detector drones are drones equipped with cameras with sensitive optical sensors capable of spotting the first signs of fire and smoke from afar. They are compatible with our web and mobile apps, which means users can be notified immediately after a fire threat is detected. Using drones to monitor wildfire risks is an effective method of early fire detection, especially across vast areas and in locations that are difficult to access or observe.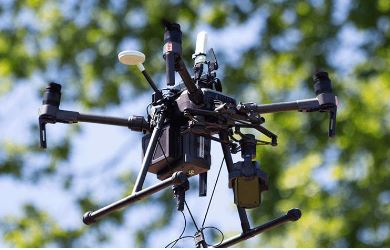 Our  Prometheus Fire Detector Drone (PFDD) is our initial solution that combines a low-cost drone system, our software platform, and a mobile app. It lets you monitor the area and precisely locate the fire to shorten the time needed to reach the place of the incident. Early detection and quick response increase the chances of successfully containing the fire to protect people, property, and assets more effectively.
Our next-generation Drone system would be a professional tethered drone that will used as a mobile fire mast. It would detect smoke or flames in places without specialized fire infrastructure and in areas with varied topography that might be difficult to cover with traditional detectors. Its impressive specifications include reaching a height of 40 meters (and up to 80 meters) and monitoring an area of 1000 square km for any signs of fire. It can work continuously for many hours with a recommended 15-minute break after each 4-hour surveillance period. This advanced system is planned to operate up to 2024/Q4.
The PROMETHEUS FIRE DETECTION DRONES created by our partners
5.  TS FIREBLOCK FIRE PREVENTION MATERIAL
The revolutionary TS FireBlock™ is an inert liquid that has little color and is almost transparent. The liquid TS FireBlock™ can be hand-sprayed, power-sprayed, painted, or airdropped onto a target. It cures over 12-24 hours depending on weather conditions, and the result is a 90-minute fire barrier.
This game-changing technology is used to prevent and fight forest fires, landfill fires, and grass fires. It can be used as an additive in paints or directly applied to any building material protecting residential, commercial, and governmental buildings.
TS FireBlock™ has been tested by third-party labs including Southwest Research Institute and Louisiana State University's Carrol L. Herring Fire and Emergency Training Institute (LSU FETI) TS FireBlock has an E84 Rating.
Contact us for further information on how this revolutionary non-toxic product will save your property and your community.
TS FireBlock™ distributed by Prometheus and created by our partners